Who doesn't love a delicious, fresh picked strawberry?
Strawberries have to be one of my most favorite foods on this planet. They not only taste delicious but they are packed full of vitamins, fiber, and some incredibly powerful antioxidants which help fight off cancer and heart disease. They are also a great source of manganese, potassium, and vitamin C.
The awesome thing about strawberries is that they are in season right now in Ohio and I am a huge fan of eating in season for many reasons:
It helps to build stronger immunity. Your body gets the exact nutrients it needs to thrive in the environment you live and makes for an easier transition with the change from winter to spring.
Food is fresher. When you eat seasonally, you generally also eat locally. This means your food didn't travel from across the world to get to your plate. The fresher it is, the more nutrients it will contain to nourish your body. (Eating locally is also much more environmentally and community friendly!)
It's Cheaper! When you eat seasonally and locally, there is an abundance of fresh produce making prices a bit easier on your wallet (i.e. you don't have to pay the extra cost of having strawberries shipped across the country).
The strawberries I used to make the Super Simple Strawberry Jam recipe came from a local farm in Marietta, Ohio called Stacy's Family Farm. Here is the link to their website:
http://www.stacyfarm.com/
My amazing mother went to Stacy's Family Farm and picked these strawberries by hand for herself, my sister, and I, she picked 16 buckets total. Yes, my mom rocks and these strawberries are absolutely delicious!
So what do I do with all these strawberries?!?
Many of them, I've cleaned and frozen to keep on hand for smoothies. Although, I'm sure my husband and I will plow through them pretty quickly considering we love our green smoothies with strawberries!
As for the rest of the strawberries, I made some Super Simple Strawberry Jam and am sharing my recipe with you today! It's so easy to make and can be used in several more recipes (I'll give you some ideas at the end).
You start with cleaned, chopped strawberries in a saucepan:
(I used approximately 3 cups)
Then add some maple syrup for sweetness:
(1 Tbsp per cup of strawberries)
Then you bring the strawberries to a simmer and let them cook down a bit:
Once they've cooked down and broken apart, you can remove them from the heat and add vanilla:
(1 tsp per 1 cup strawberries)
After the vanilla, you add the secret ingredient, CHIA SEEDS and mix the blend up!
(I used 1/2 cup, you can use 2 Tbsp per cup of strawberries used)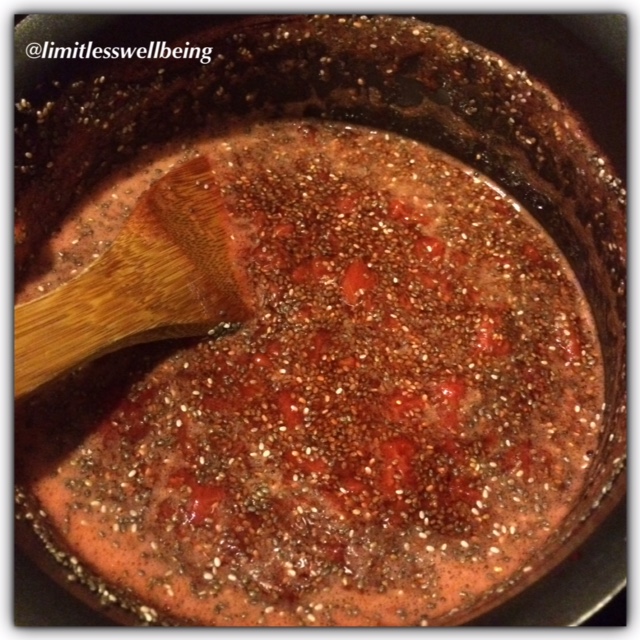 Chia seeds are a superfood packed full of nutrients including Omega-3's, fiber, protein, and they add even more anti-oxidants to this recipe. They are essential for turning the strawberries into a gel-like substance (aka jam).
After it's mixed, you can put the blend in your favorite jars and let it cool, although if you try this warm, I don't know that you'll be able to stop! Once your jam is cool, you'll want to keep it stored in an air-tight container in the fridge for 5-7 days. You can also freeze the jam to store longer but it's so good, you probably won't be able to keep it that long.
This jam can be used several different ways, here are a few of my favorite ways to use this delicious jam:
As you would normal jam, on bread, or a sandwich.
Topped or mixed with other fruit (bananas are particularly good)
Warmed and used as a topping for banana ice cream (find that recipe here)
Added on top of or in the middle of muffins
Added to rolled oats and mixed with almond milk to make overnight oats
I promise, you will not be disappointed with this healthy and delicious recipe!